C Beach in Cannes is much more than just a place to relax by the sea. Throughout the year, it is the place for events, family or professional evenings and congresses that bring the city to life. Here is a non-exhaustive list of what can happen from January 1 to December 31 on our beach.
Dinner with Fireworks
At CBeach Beach, dinners are not just meals, but memorable experiences. Even more so during the Cannes pyrotechnic festival where you will be able to enjoy an exquisite meal while admiring fireworks over the bay of Cannes. A once in a lifetime experience.
Dinner on the Private Beach
For those who would like a romantic dinner or a special evening with friends or family, our beach offers an idyllic setting for a dinner with Mediterranean flavors, a varied wine cellar, all with a breathtaking view of the Mediterranean Sea.
Corporate Events and Seminars
CBeach beach is not only a place to relax, it is also a suitable place for corporate events and seminars. Strengthen team bonds and inspire creativity in a heavenly setting.
Breakfast by the Sea
Start your day off right with breakfast on the beach. Nothing like the gentle sounds of the waves and the sea breeze to put you in a good mood.
Privatization for Special Occasions
Que ce soit pour un anniversaire, un mariage ou un événement d'entreprise, la privatisation de la plage CBeach vous offre une expérience unique et inoubliable.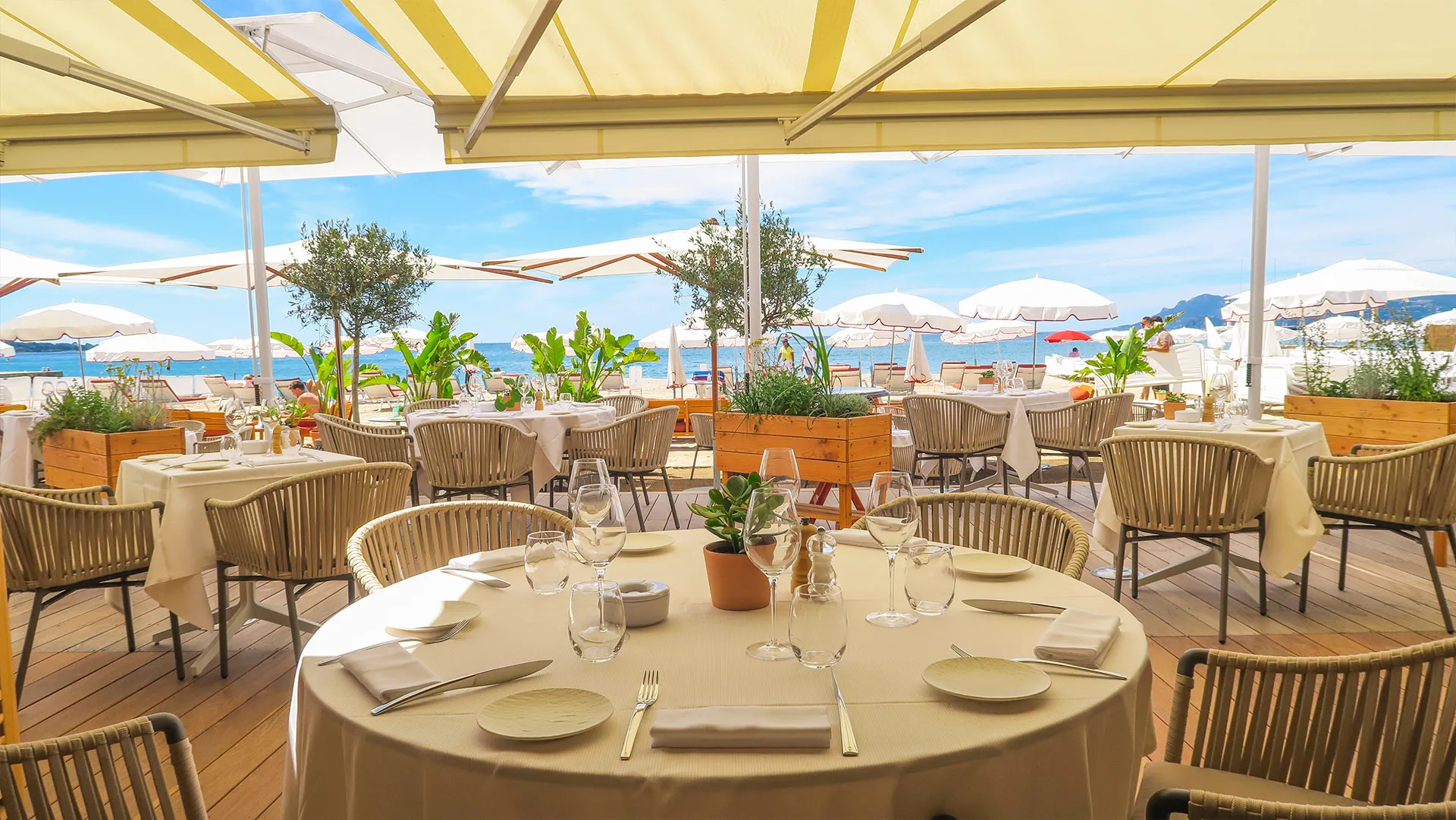 Repas d'Anniversaire sur la Plage
Celebrate your birthday on the beach in style. Between swimming and cocktails, make this special day a memorable one.
"Aperitif By CBeach" evenings
The "Aperitif By CBeach" evenings are unmissable events. Immerse yourself in a bewitching atmosphere with gourmet tapas and local DJs.
Congresses and Major Events
CBeach Beach also hosts the city's major conventions and events. From the Yachting Festival to the Cannes International Series Festival, to the Directors' Fortnight during the Cannes Film Festival, this is the ideal place to mingle with the main decision-makers in the industry.

As you have understood, our CBeach beach is a place with many facets that offers much more than moments of relaxation and rest in the sun. Because sometimes we are looking for a romantic evening, or a place for your next corporate event, or simply a place to celebrate life, the CBeach beach and its team welcomes you and transforms itself according to your requests. Book now and be part of the adventure.

[an error occurred while processing this directive]